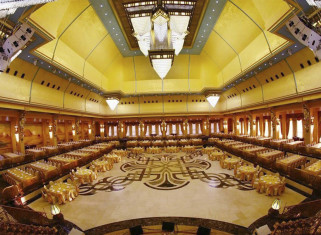 RAMSES Hall
The "Ramses" hall is, first of all, the interior of pharaohs and high priests, the feeling of wealth and luxury of the ancient civilization.
The civilization of Ancient Egypt is one of the most famous civilizations of the world, which have not been divined and have not opened all its secrets up to now. Ramses is one of the greatest Pharaohs of Ancient Egypt, and the hall called "Ramses" is considered as really a royal one.
The style of the "Ramses" hall is inspired with the unique culture of Ancient Egypt, which today, after thousands of years, makes come to a standstill in admiration before the power of human mind, the force of talent and workmanship.
The hall is comfortable for the large-scale arrangements and festivities and is able to place hundreds of visitors. The stage located at the opposite end of the entrance may place up to 14-person musical staff. The stage is visible from all the sides of the hall so that all the guests of the hall can enjoy the performances. The floor of the stage is laid with wooden parquet, and the stage itself raises above the dance pavilion by 50 cm, due to which the acoustics of the hall allows visitors to greatly enjoy the alive music.
The decoration of the hall includes the sculptures of the epoch of Ancient Egypt and the subtle play of light. There are three make-up rooms and a special room for bride and bridegroom here. The hall is also equipped with two 5x5 m HD LED monitors. Among the banquet halls the "Ramses" hall has no analogues on the technical equipment not only in Armenia, but also in the whole Caucasian region.
Here there is also a free parking area, which can place thousands of vehicles.
A unique crystal chandelier, registered in the Guinness World Records, is a grand finale of the luxurious royal atmosphere of the hall. Weighting 33 tons, the chandelier consists of 22 000 simultaneously burning bulbs.
AREA: 2100 sq.m.
CAPACITY:  up to 800 guests.
The following arrangements can be organized here:
Weddings and festivities
Jubilees and birthdays
Christening-parties, children's arrangements
Corporative arrangements
Conferences, presentations
Charitable parties and fundraising
Concerts, arrangements of club format