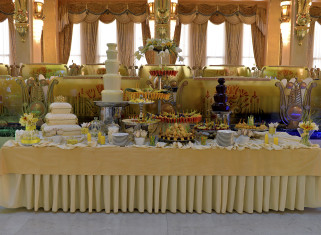 Fourchette     
Fourchette  (from French Fourchette – fork) is a variety of meals and snacks served for self-service, without the limitation of set and quantity. Fourchette is comfortable for the organization of business and non-official meetings. During the event, guests are usually freely placed in the room and move in it, they themselves choose meals and beverages placed on the fourchette tables, which gives an opportunity for free communication.
Our fourchette menu has a lot of positions, and, for sure, you will find what you like and what will fit you according to the status of the event. We will arrange for you aesthetically designed refreshments, starting from the selection of menu and ending with the high-quality service of the party rendered by our waiters.
Cocktail
Cocktail (from English cocktail) is a beverage received through the mixture of several liquids.
Numerous varieties of alcohol and non-alcohol cocktails are presented in our cocktail menu at any taste: from the well-known classical cocktails up to the special author's cocktails prepared by our skillful barmen.
Banquet
Banquet (from French banquet) is a dinner party or supper in the solemn circumstance organized in honor of a particular person or an event. The menu, from which the impression produced on the guests will depend, is one of the most important moments in the holding of a banquet. We will present you with our exquisite banquet menu amazing with the variety of dishes.
Our chief cook, a multiple nominee of the European competitions, as well as more than eighty other cooks will provide the refined gourmets with exquisite dishes of the Armenian and European cuisine. In our banquet menu you can find all the hot and cold dishes, meat, poultry, fish, traditional dishes and original findings.
Dessert
Our dessert map is the best of the Armenian and European traditional recipes. The exclusive baked goods, which are prepared on spot in the best traditions of the "home" palace cuisine, will give you an unforgettable pleasure. Bread, which is an important component of the Armenian cuisine, is also produced at our bakery.