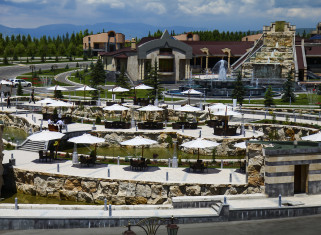 "OASIS" Cafe
You can enjoy the clean paradisiacal air and all the earthly blessings at the "Oasis" cafe, symbolizing eternity. All your wishes are realized at the "Pharaon" leisure and entertainment complex.
An atmosphere of unconstrained refinement and luxury, far from the noise of the city, will give you an opportunity to relax in the wicker chairs under the shadow of umbrellas.
The "Oasis" cafe, which is a real oasis with wonderful ponds, waterfalls and fountains, will create an unrepeated mood and will add enchantment to your day.
At one of 32 tables of the "Oasis" cafe, you can enjoy the breath of wind, slowly enjoying your favorite beverage. Our guests can taste dewy cocktails, delicious coffee and exquisite assortment of tea. The cafe located in the open air has separate zones, which are also heated if necessary.
The "Oasis" cafe is a place, where everybody can spend pleasant time, enjoying the freshness of nature and countryside landscapes: you do deserve to present happy moments to yourself.