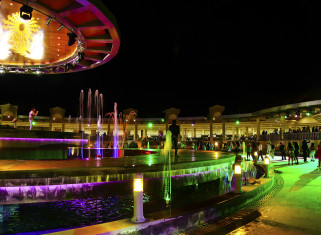 COLISEUM Hall
The covered terrace of "Coliseum" is quite comfortable for the organization of private arrangements: jubilees and weddings. Though the spacious terrace is expected for 1600 guests, the unique planning gives an opportunity to conduct arrangements in the narrow family atmosphere as well. The hall is divided into several segments with the capacity of up to 120 people: the decorated vitrages give an opportunity to separate from other guests of the hall.
The guests of "Coliseum" will really evaluate pleasure to enjoy exquisite dishes, sitting among the flowered beds, grass plots and luxurious fountains.
The corporative and family festivities or weddings conducted in the atmosphere of freedom, in the unique interior and against a background of the nice nature decorations of Armenia will leave unforgettable impressions.
The hall has a separate parking area.
"Coliseum" is one of the most famous ancient monuments of the world, it is a symbol of majesty and power of Ancient Rome.
The stage is constructed in the image and likeness of the majestic "Coliseum". It consists of three circles: the dance pavilion is located underneath, the area for additional actors and dancing groups is on the second circle, and the upper circle is for performers and musicians.
The comfortable stage, directed at spectators and located at the height of 2.5 meters, the dance pavilion, the professional light and sound equipment, the HD LED big screen for the transmission of video presentations or collections of pictures, give an opportunity to organize show-programs to your taste.
AREA:  8000 sq.m.
CAPACITY: up to 1600 guests.
The following arrangements can be organized here:
Weddings and festivities
Jubilees and birthdays
Christening-parties, children's arrangements
Corporative arrangements
Conferences, presentations
Charitable parties and fundraising
Concerts, arrangements of club format